Colorado Shooting, a Sad Day in Colorado Springs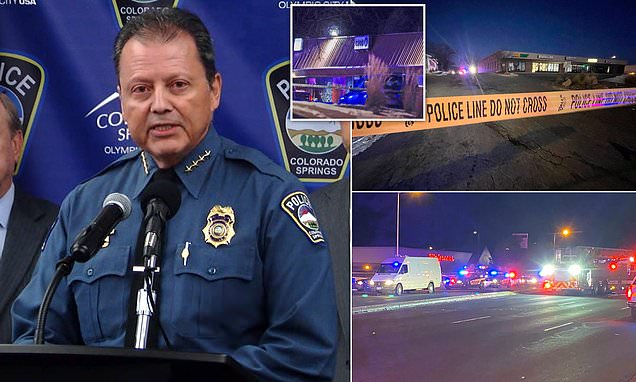 Colorado Shooting: Tragedy has hit Colorado Springs in the form of a shooter incident at an LGBTQ nightclub, the community left devastated with at least five people dead and multiple injuries. The exact number of injuries varies by news source, with CNN reporting 25 injuries and the Daily Mail and many other sources reporting 18 injuries. 22-year-old Anderson Lee Aldrich has been identified as the gunman, following his attack he was subdued by patrons of Club Q in Colorado. Police recovered a long rifle according to CBS news broadcast.
Preliminary report: gunman in the Colorado Shooting was wearing some sort of body armor.
CNN — "A 22-year-old gunman entered an LGBTQ nightclub in Colorado Springs, Colorado, just before midnight Saturday and immediately opened fire, killing at least five people and injuring 25 others, before patrons confronted and stopped him, police said Sunday."
Joshua Thurman a patron of the establishment gave his account of the events to CNN, describing that he saw muzzle flash and heard gunshots.
"I thought it was the music, so I kept dancing," he said. "Then I heard another set of shots, and then me and a customer ran to the dressing room, got on the ground and locked the doors, and called the police immediately."
Colorado Shooting Attacker A Repeat Offender
Anderson Lee Aldrich, as it turns out, has a record of violent behavior, with charges for threatening to blow up his own mother with a bomb just a year ago. This behavior resulted in legal charges being filed against Aldrich, the El Paso county Sheriff's department reported Aldrich had been held on charges of felony menacing and first-degree kidnapping. It is also reported that Aldrich is on an FBI watch list, it is unclear why he remains free to walk the streets and how exactly our legal system failed to prevent this tragedy.
Colorado Shooting Attacker Identified
There does seem to be some confusion as to the identity of Aldrich, with no photos released in any current reports on the incident, this has sparked debate in the online community as to what the shooter actually looks like. Why there are no credible photos of the shooter's current and previous criminal escapades remains unexplained.
Colorado Shooting Heroes
Untold lives were saved by the action of at least two people present during this atrocity. It takes a ton of courage to put yourself in harm's way and there is no doubt that this is a quality possessed by those who decided to take action. Hopefully, the heroes will be recognized with more media coverage than the shooter, as in many cases the brief minute of media fame is a motivating factor for engaging in such criminal activity.

We'd like to see the hero's story highlighted and the murderer's story a shadow in the light of their heroism. Hopefully, the media has learned and will not repeat the same mistake with the Colorado Shooting as they have in the past, spinning the tragedy to prop up false narratives around gun control. It is very clear to this outside observer that if these two heroes had concealed carries many more lives could have likely been saved with the attacker subdued by an accurate shot.
The Colorado Shooting is a terrible tragedy.
While we can only speculate about what motivated this person to commit such heinous acts of violence. In the end, whatever the motivation may be, what has been done is an absolute horror. On the tail of a heated confrontation between parent protestors and proponents of an all-ages drag show at a recent LGBTQ event, it is only a matter of time until the local woke media spins this story painting parallels that simply do not exist.

Our thoughts and prayers go out to the families of the victims of this attack and to the LGBTQ community. This kind of behavior is unacceptable. Hopefully, future violent offenders will be prosecuted in a manner that prevents cycles of violence from recurring within a year's time.
Related keywords to this developing story:
colorado springs mass shooting
colorado springs gay nightclub
shooting in colorado springs
club q in colorado springs
shooting at colorado springs, people were killed
shooting at club q