Protecting Our Children from Indecency & Ideology
The recent events unfolding in Humboldt County have sparked deep concerns about the state of our community's values, media coverage, and the influence of ideologies. As citizens who care deeply about the wellbeing of our children and the moral fabric of our society, it is our duty to address the alarming trends that have emerged.
Contents
A Double Standard: Media's Bias & Blind Eye
Last week, a shocking incident took place involving Clinton Ellis-Gilmore, a member of the Sisters of Perpetual Indulgence . This individual was arrested for indecent exposure, a crime that warranted more media coverage than it was given due to the Sisters involvement with many events where children are present. However, our major local media outlets (Lost Coast Outpost, North Coast Journal, The Red-Headed Blackbelt and the Times Standard) chose to turn a blind eye, barely acknowledging the incident beyond a brief mention in the booking section.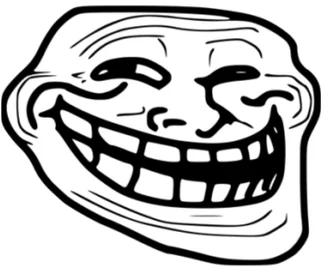 This shocking lack of media attention contrasts sharply with the fervent coverage they gave to concerns raised by parents (labeled as hate groups) over the exposure of young children to drag performances. The inconsistency in media coverage raises troubling questions about journalistic integrity and societal values.
It is important to note that some of the same local media that barely acknowledged this indecent exposure incident went to great lengths to amplify the concerns of a known fake hateful comment left on a petition on our website (likely written by a Left Wing Troll). The disparity in attention between these two incidents is astounding and forces us to confront the media's apparent bias and selective reporting. Among the few outlets that did address this issue were John Chiv and us here at Lost Coast Populist. This one-sided reporting paints a skewed picture of our community's concerns and priorities.
Values & Accountability
In a quest for open dialogue, I reached out to every member of the Humboldt County Board of Supervisors and the Eureka City Council. My email (as written below) expressed my concerns about the arrest and recounted my personal experience of being barred from recording a disability pride event that was open to children. The reason for my exclusion was due to the perceived influence of the LGBT community on the event's host, leading the host to believe that I was "guilty by association".
Guilty of alleged hateful comments not from my own mouth but from concerned parents at a previous all age drag show. This disturbing incident underscores the challenges we face in maintaining diverse viewpoints and the erosion of our freedom to express concerns without fear of retribution.
---
To: kbergel@eurekaca.gov, lcastellano@eurekaca.gov, kmoulton@eurekaca.gov, sbauer@eurekaca.gov, gmfernandez@eurekaca.gov, rcontreras@eurekaca.gov, rbohn@co.humboldt.ca.us, mbushnell@co.humboldt.ca.us, mike.wilson@co.humboldt.ca.us, narroyo@co.humboldt.ca.us, smadrone@co.humboldt.ca.us,
Subject: Concerns Regarding All Age Public Events and Press Access
Dear Members of the Humboldt County Board of Supervisors and Eureka City Council,
I hope this letter finds you in good health. I am writing to express my deep concerns regarding recent incidents that have brought to light the appropriateness of content at all age public events open to young children, and the need for equitable press access to these events.
The recent arrest of one of the Sisters of Perpetual Indulgence for indecent exposure has sparked a renewed debate in our community. The discussion centers around what is considered appropriate for all age public events and the potential impact on young children in attendance.
There have been instances where certain all age events have garnered attention for their content. For example, Lost Coast Populist covered and recorded a drag show at the Jefferson Center, while facing restrictions at the College of the Redwoods event. Furthermore, at the Disability Pride event, I was forced to leave due to restrictions on recording and coverage for LCP. Multiple concerned parents conveyed that since this event could be attended by potentially mentally handicapped children, the abundance of LGBTQ literature and presence at the event could be considered a form of grooming. Especially since in the Mayor's announcement and promotional flyer the event was allegedly focused on people with disabilities.
The Sisters of Perpetual Indulgence had a presence at all these events. Given the recent incident and the growing concerns among local parents, I believe it is essential for our community to address these matters thoughtfully and constructively. It is crucial to strike a balance between artistic expression, inclusivity, and the protection of our youth. I urge you to consider implementing measures to regulate content and ensure that private events open to all ages are accessible to the press, including entities like Lost Coast Populist.
In doing so, we can work towards fostering an environment that respects diverse perspectives while also safeguarding the well-being of our children. It is my hope that our community can engage in an open dialogue to find solutions that meet the needs of everyone involved.
Thank you for your time and attention to this matter. I look forward to hearing your thoughts on these concerns and any potential steps that can be taken to address them.
Sincerely,
Ash Teeter
Lostcoastpopulist.com
---
Shockingly, not a single response was received from any member of the Board of Supervisors or the City Council. This lack of engagement raises important questions about the willingness of our elected officials to address our concerns and uphold their responsibilities to represent us. This silence stands as a testament to the disconnect between the public and our government representatives. This comes even after speaking at last weeks Eureka City Council Meeting.
Selective Reporting Misses Disturbing Truths
The media's selective coverage becomes even more glaring when we consider a hypothetical scenario in which the offender belonged to a different demographic. If the arrest had involved someone from the religious community or a right-leaning political organization, we can only imagine the intense media scrutiny and government responses that would have ensued. It is disheartening to see that these factors seem to determine the level of attention and accountability certain issues receive.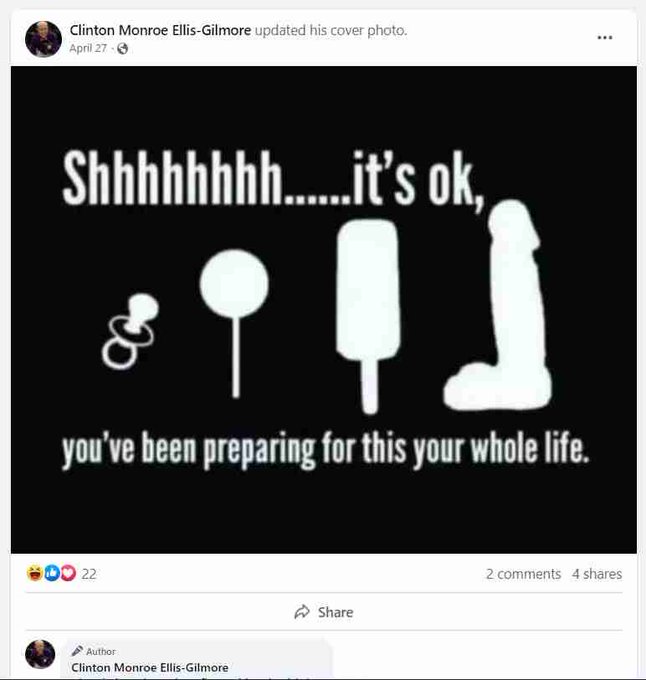 A deeper dive into the arrested individual's online presence reveals a disturbing pattern on Clinton Ellis Gilmore AKA (Novice Sister Bethe Cockhim)'s Facebook page. An image featuring a pacifier, a lollipop, a popsicle, and an erect penis with the caption "shhhh it's alright you've been preparing for this your whole life" is nothing short of alarming. Gilmore's involvement in a drag queen story hour event through the Sisters of Perpetual Indulgence further raises concerns about the content children are exposed to and the character of those presenting it.
A Call for Accountability: Protecting Our Children
The presence of satanic imagery on Gilmore's Facebook page, despite his claim to be an atheist, paints a concerning picture of his beliefs and values. Furthermore, my own experience as a disabled journalist being barred from recording a disability pride event due to my associations underscores the deeply troubling notion that speech critical of exposing children to sexualized content is labeled as "hate speech." In an ideal society, those who associate with Gilmore and his disturbing content should indeed warrant attention for their desire gain the audience of young children.
In a fair world the children might be the protected class and the grown men whose name sake of their organization promotes perpetual indulgence (constant sexual gratification?), like one of Gilmore's fb post highlights as a "free pass" from acts which might be considered sinful. Stating " may Pleasure be your god, lust your temple & sex your sacrament"
In a world that values morality and justice, the innocence of young children should always take precedence over personal indulgence and ideologies. A just society should prioritize the protection of children, regardless of the protected class of sexual identities /preferences belonging to the grown men seeking their audience. It is our collective responsibility to advocate for media transparency, hold our elected officials accountable, and protect the truly vulnerable class (the children of our community).
Moving Forward
As concerned citizens of Humboldt County, it is imperative that we address these alarming trends head-on. The future of our community is literally at stake, and we must be vigilant in protecting the children within our community from indecency and ideology which may seek to indoctrinate them. By demanding unbiased media coverage, fostering open dialogue, and holding our elected officials to a higher standard, we can work toward a future where the innocence of our children is prioritized and preserved above all else.