How Elon Musk Became the Chuck Norris of Twitter and Silicon Valley
Early Days of Innovation
In the early days, Elon Musk lived the fabled budget life of many memorable tech success stories. Though his family in South Africa was far from destitute, his college life was anything but glamorous compared to his current quality of life. In 2019 Musk put out a tweet regarding this difference in financial stature, claiming that he "arrived in North America at 17 w $2000, a backpack & a suitcase full of books".
His college life began at Queen's University in Canada. He transferred to the University of Pennsylvania, where he completed bachelor's degrees in both economics and physics.
Following that, he traveled to California in 1995 to attend Stanford University, this move shifted into the pursuit of a business career which quickly grew his fortunes. Musk, alongside his brother Kimbal, founded the web software company Zip2, selling to Compaq for $307 million in 1999.
Directly followed by Musk co-founding the online bank X.com, which merged with Confinity in 2000 to form PayPal, and was subsequently purchased by eBay in 2002 for $1.5 billion. As most would agree, Musk had found his business sea legs and was clearly making solid moves.
Diversification and Domination
Following the Sale of PayPal, Musk was able to spread his interests – far from being timid, he went all in on multiple ventures where failure on either front could have meant complete financial devastation. Following his $180 million PayPal sale portion, Musk moved quickly to re-invest: $100 million in SpaceX, $70 million in Tesla, and $10 million in Solar City. These combined actions left Musk claiming that at the time he had to borrow money to make his housing payments.
Going all in on Tesla and SpaceX paid off in the long run, allowing Musk to diversify even further, tackling a number of other projects that piqued his interest. Projects such as The Boring Company (which creates safe, fast-to-dig, and low-cost transportation, utility, and freight tunnels) and Neuralink (which develops ultra-high bandwidth brain-machine interfaces to connect humans and computers. In early 2021 Musk tweeted: "Neuralink is working super hard to ensure implant safety & is in close communication with the FDA. If things go well, we might be able to do initial human trials later this year."
One tactic that allowed for this expansion was to prioritize projects in areas where government funding was available, "He definitely goes where there is government money," said Dan Dolev, an analyst at Jefferies Equity Research. Industries that were no public secret, with the growing push for green energy and the lackluster accomplishments of NASA as it continually shrunk over the decades.
In the 2015 best-selling biography Elon Musk: Tesla, SpaceX, and the Quest for a Fantastic Future, Ashlee Vance wrote: "Musk–one of the most unusual and striking figures in American business history–is a contemporary, visionary amalgam of legendary inventors and industrialists including Thomas Edison, Henry Ford, Howard Hughes, and Steve Jobs."
Elon Musk, a Man of Principles
Elon Musk consistently upholds a set of principles and core values in his daily life to not only stay productive but also stay grounded and healthy. One valued principle held by Musk is to think for yourself, an effective strategy coming from the first principles approach to business and life.
"The first principles approach has been used by many great thinkers including inventor Johannes Gutenberg, military strategist John Boyd, and the ancient philosopher Aristotle, but no one embodies the philosophy of first principles thinking more effectively than entrepreneur Elon Musk."

First Principles: Elon Musk on the Power of Thinking for Yourself, written by James Clear
First principle thinking requires a deep evaluation of the foundational truths critical to a situation. René Descartes (French Philosopher/Scientist) says he would "systematically doubt everything he could possibly doubt until he was left with what he saw as purely indubitable truths." It is this strategy that Musk routinely engages in order to break down and solve complex problems.
Principles can be observed in Musk's political commentary
When weighing in on the situation in Ukraine, he proposed the following ideas in a tweet:
His Ideas are far from the mainstream narrative, which only supports continuing to shower Ukraine with cash and weapons despite the consistent failures of this strategy when applied by previous administrations. His ideas bring much-needed nuance to this conversation, clearly in opposition to the mainstream media which push a one-sided leftist narrative.
Discipline Balancing Business and Family
To touch all bases each day, Elon lives by a strict code of multitasking discipline, spending small segments of time on multiple projects, and sleeping a self-proclaimed six hours a night. Starting his days at 7 am Musk claims to schedule his day in 5-minute segments, finding time to spend with his 5 children during weekdays but still checking his emails during family time.
This is a lifestyle with which some critics apparently have a problem. Coming under fire for his minimal sleep and long work hours, Arianna Huffington suggested that Musk change the way he works to be more in line with the science around how humans are most effective. In response, Musk put out a tweet stating:
"Ford & Tesla are the only 2 American car companies to avoid bankruptcy. I just got home from the factory. Do you think this is an option? It is not."

-Elon Musk, Twitter
Being one of the busiest humans on the planet, Musk points out that this level of engagement is not optional and is a requirement in order to keep things running smoothly. It is conservatively estimated that Musk spends 100+ hrs a week running both SpaceX and Tesla, while somehow making time for personal endeavors with his family.
King of The Twitter Trolls Stands For Free Speech
It wasn't until later in his career that Elon began to advocate for free speech. Comfortable with his celebrity, he began to stand against censorship, which came to be a commonplace practice within large social media groups.
Going against the grain of woke culture led Elon to develop a comedic style of truth-telling, much like content one might see from the Babylon Bee. Elon has grown to become a regular advocate for liberty and free speech, poking fun at the corporate narrative and those who advocate on its behalf.
How will this pattern of behavior translate as the owner of Twitter, compared to that of a mere popular User? Will Elon Musk free the Bird? A Twitter Renaissance to be …
It is no secret we stand firmly against cancel culture at Lost Coast Populist. Elon Musk, being a high-profile figure, has grown popular for speaking out against cancel culture. Through his advocation to have steadied Elon's target, revealing the predominant digital battleground for free thought we all know as Twitter.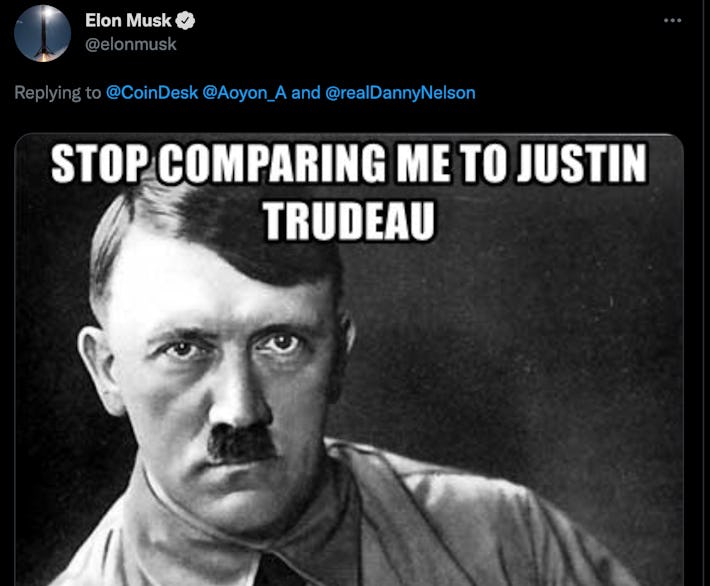 Having diversified and developed multiple successful startups to fruition, Elon found himself in a place to not only wage war, but completely own the battlefield and thereby control the rules of engagement. A recent example of both trolling Twitter users and standing for free speech can be found in a deleted Musk tweet involving a Hitler joke, in the tweet, a caption on a picture of Hitler read "Stop comparing me to Justin Trudeau."
Closing the Deal on The Blue Bird
Back in March of 2022, Elon Musk began to position himself for his move on Twitter. One of the first moves he tweeted about was in the form of a question asking the then heavily censored Twitter community if they agreed with his view of how Twitter should be changed. He tweeted the following quote in a poll to his followers.
The response to this tweet, dated march 25th 2022, was a crushing 70.4% agreeing that Twitter near the end of March did not adhere to the principles of Free Speech with 2,035,924 total votes. Shortly thereafter, Musk purchased over 5% of Twitter on August 4th, making him eligible to join the board which he discussed with former Co-Worker Egon Durban.
While the discussion regarding becoming a board member was ongoing, unreasonable conditions set by the board regarding speaking in public or buying the company had to be changed before Musk would accept the terms. Musk eventually agreed that to increase his 9.2% stake in the company past 15% he would first seek board approval. This move set him on track for joining the board.
Jack Dorsey Agrees with Elon Musk, Private Company Best for Twitter
Soon after Musk Joined Twitter's Board, Former CEO Jack Dorsey left the company as a result of his position on the Board coming to an end. Before leaving, Dorsey revealed that he believed that Twitter should become a private company. This resonated directly with the way Elon Musk felt about the company and acted as a catalyst, influencing Musk to make an offer and take the bluebird private. At first, the board refused any notion of this offer, threatening to dilute the stock using the poison pill strategy if Musk attempted the purchase.
The acquisition offer that musk sent to the board on April 14th sought to buy the company at $54.20 per share—about $44 billion. Musk tweeted comments that "led the Twitter board to believe he might commence an unsolicited tender offer." Being a man of endless humor and wittiness he dropped One tweet that just said, "Love me tender." Next on April 21st Musk announced that he secured $46.5 billion in financing for the acquisition, the first real assurance that Musk would be able to buy the company.
Another key condition Musk created for the purchase of the company was to verify that users were in fact real people and not bots, On May 13, Musk tweeted the deal is "on hold" as he confirms the share of fake accounts and bots on Twitter. Negotiation continued for months, much being due directly to optics created by the long-held Twitter hierarchy trying to dance around the fact that their user base was largely made up of Bots (fake accounts), a deal was finally hammered out and finalized in October 2022.
Blue Check Cult loses, and Humanity Wins
Immediately after taking the helm, change was in the air in the twitter-verse, mass layoffs and a complete structural overhaul of the staff working at Twitter was the first decisive move made by Musk as Twitter's new Owner. Additionally, Musk announced that he plans to form a "content moderation council" at the social networking company. He says he will not make any "major content decisions" or reinstate any accounts that were previously banned before the council convenes. The full extent of duties falling in the hands of this content moderation council remains to be seen.
One way that Musk immediately managed to stick it to the entitled high-profile blue check masses cancel-cult is to make the acclaimed Blue Checkmark feature a paid subscription bonus. In the near future, for the low cost of $8 a month any Tom, Dick, Harry, or Sally can pin the once elite blue checkmark to their feathered blue avatar.
Triggered Celebrities Sacrifice Their Credibility to Attack Elon Musk
This drew the immediate ire of multiple entitled celebrity types, Steven King, Mark Ruffalo, and even Kathy Griffin, who was so triggered she took to using her dead mother's account after being banned for impersonating Musk. These folks were among the first to throw trigger tantrums over the issue in yet another moment of their complete lack of self-awareness and expression of their over-inflated egos. Though Musk claims he had nothing to do with it, Kanye West was coincidentally reinstated at the same time Musk was completing the purchase of Twitter.
It is without a doubt that Elon Musk will completely re-imagine and change what the Twitter platform represents as the fabled international town hall for humanity. There is no doubt good things and interesting times are on the horizon.