When you examine California politics and find Humboldt County (second county down, top left, map below), a historically blue county, nestled between a sea of red counties in the rural northern regions, one must ask themselves where is the Humboldt Republican Party.
How long has it been since republicans won anything in Humboldt County? Indeed it seems the only time we hear anything about Republicans in Humboldt is when the windows are broken at the GOP office downtown. What are these folks doing wrong that is attracting so much negativity?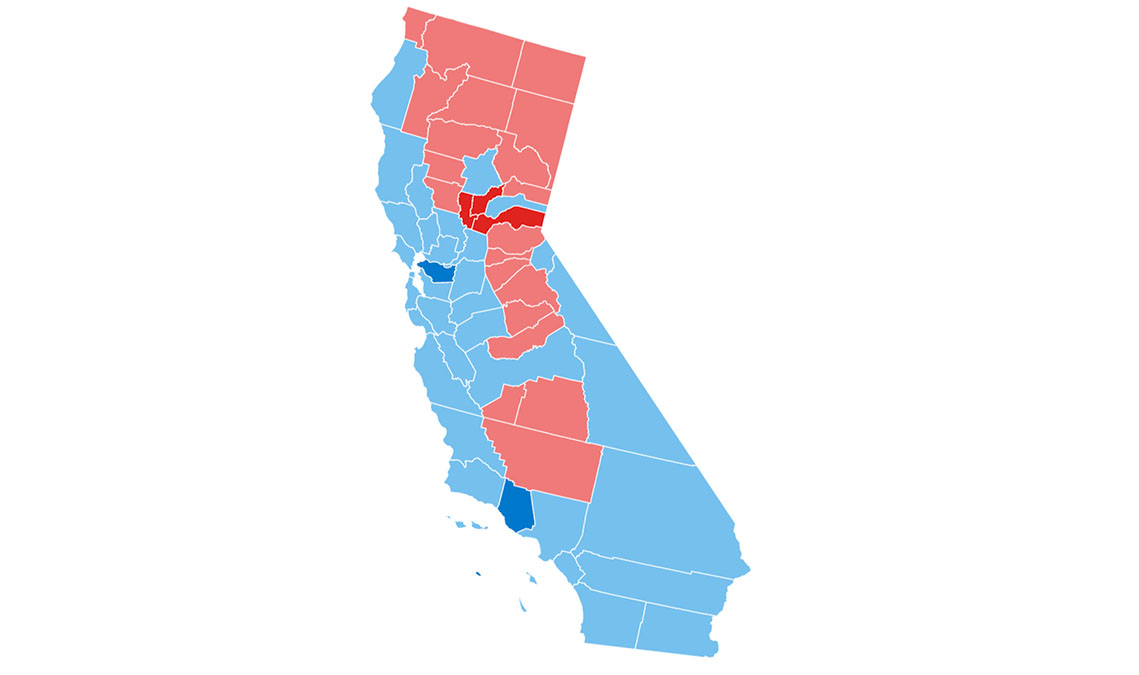 Well, there is a reasonable explanation for this 20-year losing streak and the negativity.
Unfortunately, the Humboldt County Republican Central Committee ( HCRCC ) is run by a pack of grifters. These folks rake in tens of thousands of dollars in donations each year only to turn around and use these funds to throw exclusive cocktail parties for themselves and a select group of people in Humboldt. They elbow around with whatever politicians come to their events, taking photos and other ego fodder, and then they call it a night.

They finance these events with their coffer of donations extracted from unsuspecting donors, only to repeat the cycle again and again, year after year, all the while never making any serious progress in terms of winning elections.
Meanwhile, over the years and most notably in recent times, a large volume of volunteers have and continue to step up, intending to walk their districts, get involved, and make a positive change.
Sadly these volunteers are under-supported, kept in the dark, and consistently sent packing, typically for having the audacity to voice their honest opinions openly at regular meetings. Indeed this core group of R.I.N.O. (Republican In Name Only) "Republicans" have pushed away countless Humboldt Patriots who wanted to help because they didn't sit down, shut up, and do as they're told!
Patriots like me, who don't do well under such conditions, have felt the pain of this firsthand.
Humboldt Republican Party, Feckless Hateful Cowards
The definition of feckless, for the record, is "Careless and irresponsible, Feeble or ineffective, Spiritless; weak; worthless."
I couldn't find another single word to better sum up the Humboldt County Republicans.
"Wow, that is really harsh man," I'm sure some might be thinking, but if that is the response it is simply due to not having walked in this author's shoes and living what I have experienced and this article is just the tip of the iceberg. Sadly I am not alone either.
Although their being witness has some value after the fact, numerous others who joined me on my feeble quest of volunteering for the Humboldt County Republican Central Committee, unfortunately, witnessed much of what I detail here.
Once upon a time in a land not so far away this author was the 5th district chair of the Humboldt County GOP. You can check the archived district roster HERE to verify if you think I'm messing with you.
The district chairs are responsible for Getting Out The Vote! ( GOTV ) A district chair is often supported by its chairman with every tool the Committee has to offer that district's volunteers in their efforts at GOTV.
Makes sense right? You are a political party, trying to get your politicians elected, so you build a team and support it through and through. Not these guys.
A little Background is in order
While not aligning entirely with everything the Republican Party has stood for, what got my attention, to begin with, was Ron Paul. I was a huge Ron Paul supporter on both campaigns, and fast forward to 2016, I absolutely loved Donald J. Trump as president.
I proudly contributed to their campaigns and voted for both of them.
I'm a proud pro-cannabis, inclusive populist, inclusive nationalist, capitalist, pro-American Patriot who is Pro-Life with reasonable exceptions, and socially classic liberal
I am a married man to the love of my life with whom I've raised three boys, ages two, ten, and twelve. My wife is a stay-at-home mother who homeschools our children, and I have a long history working in sales positions and startups in the Cannabis Industry.
I only support political parties, candidates, organizations, and bills that uphold the Constitution and the Bill of Rights and I strongly oppose anything that threatens either.
Although I was raised by a Christian father married to a secular, indifferent to spirituality, mother; my father was raised by what I would refer to as a "hardcore" religious set of parents, and together with my mother my parents chose to raise me outside of the Church and encouraged me to think for myself and question authority. It stuck, and I am forever grateful.
With that being said I believe Jesus Chris was the son of God and I recognize his words and teachings as transcendent, positive, and valuable. There is a lot in the Bible I resonate with and would recommend to others as a moral foundation, like the Ten Commandments for example.
I loved my Grandmother and was devastated when she passed and so I treat all Christians with kindness and respect in reflection of my many talks with her about God. I have no doubt she is looking over me.
Not Christian enough for the Humboldt Republicans
Despite all of the above resumes which would act as a wedge holding the door open to just about any Republican Party in the Nation, because of my love of Cannabis I'm as good as a God Hating Communist to them.
The story is actually quite remarkable. You see, not only did I single-handedly rebuild the website for the HCRCC, which was previously located at Humboldtgop.org – but with the help of Liberty Lady, we both rebuilt the Social Media, expanding both far beyond where we found it.
In 2022 if you are in politics and you are not using the internet and social media to their fullest then you are literally hurting your own progress. How else would a political party expect to reach the younger generation of voters who are already primed for getting their information on the internet?
Even though we were both blown away at how long they had gone with their original website, but also how underutilized their social media was, all we had to do was show up and give an effort.
Indeed, one could only take a peak at the backside analytics and realize how far the website had come from the blogger.com based website that @ll4djt and I replaced. From the moment the new site went live to the moment it was switched to the Humboldt Guild of Patriots it consistently increased its traffic on every level.
Not only did the new website look better, run faster, and get more traffic – it also allowed a unique opportunity for local patriots to voice their opinions!
You can see an archived version of the website in all of its glory here:

Humboldt County Republican Party Website circa May 2022 to July 2022
and here is the website we replaced:
Humboldt Republicans Circa 1978 to April 2022
The improvement is like stepping out of a beat-up pinto and stepping directly into a Cadillac. The two of us put in hours of work setting up the new website to be a 1st Amendment Safe Space online for vetted Republicans to author Blog Posts.
Blogs, as anyone who understands the internet already knows, are the lifeblood of any website. Without consistent content creation, a website begins to lose credibility and visitor interest, especially in this high stimulus word we are emersed in from the moment we wake up. Observing this reality we figured building a free speech safe space for Republicans was a good idea.
Free Speech Safe Spaces for Republicans? Humboldt County Republicans say NO
Yes, they actually voiced strongly against this.

In fact, they did everything in their power to stop it, even bearing false witness. A flagrant violation of the very religious dogma they claim to praise, they are willing to cast aside as means to justify their ends. What on earth would compel a group of Religious Zealot Republicans to rally against an online free-speech safe space specifically for vetted Humboldt County Republicans?
Last I checked the Republican Party is supposed to get the vote out, create and foster a local grassroots movement to that end, built of as many Humboldt County Republicans as possible.
When I got involved I expected some kind of top-down educational and resource-filled support from the California GOP and/or the Chairman, or maybe some kind of Welcoming Committee, but sadly none of this ever manifested. It was radio silence, sink or swim, figure it out but don't ask questions type of scenario.
This experience left me deeply concerned not only about Humboldt County's Republican Party, but all the other counties in California, and across the nation. Here I was, a volunteer for months, having moved up to being the chair of the 5th district and Co-Chairs of the Tech Committee, without a fragment of effort by the greater party to check on my progress, offer support, or just make introductions. Indeed this fool volunteered expecting the GOP pie to be filled with enthusiasm and support for their patrons, only to find out the pie doesn't taste so sweet.
Thou shall not speak about Cannabis
Can you believe it? The 5th District Chair of the Humboldt GOP had the audacity to author a blog post which can be found here on Lost Coast Populist, titled "Cannabis, a Defamed National Treasure," originally authored for the humboldtgop.org blog. I emailed the draft copy of this over to the Chairman, Rev. Douglas Brower, who is currently running against Jarred Huffman for Congress. He, in a chain email to the entire committee, replied back with his disagreement, writhing with bias and unfounded claims about the content without providing specifics or any constructive criticism.
Simply put, the article was NOT being published via the decree of King Chairman Brower
This didn't sit right with me.

However, in this same time frame, I learned about Robert's Rules of Order which is the foundational document on the parliamentary procedure where the Humboldt Republican Party's Bylaws were silent. The only problem was no one was ever provided a copy of the current bylaws, and therefore had no way to confidently proceed in the regular meetings.
When this was brought up in a tension-filled group email thread, the Treasurer at the time discovered Bylaws from 2013. These bylaws were not current, however, it was like discovering an old map that showed the true location of things before they were changed and the past erased.
Republican Party Beliefs Come Second to Religion in Humboldt
The assembly discovered the Chairman had specific duties and the first listed was to provide a current copy of the bylaws to every member. This never took place, which added to my growing concern which was turned toward resentment as I began to suspect foul play at hand. Reading further within the Bylaws the assembly discovered the Chairman, and any other officer for that matter is immediately disqualified from the Committee if they run for office. This section had been removed in 2016 to allow the Chairman to continue to serve as Chairman while simultaneously embarking on a Political Campaign for Congress.
Obviously, this rule was created for a reason, most obviously to prevent any local Republican on the committee who intends to run for a specific office to not have a measurable advantage over non-committee members who intend to run for the same office also as a Republican. Clearly, the Candidate who is able to also keep their position on their County committee would have a huge advantage over their colleague challengers.
Shots Fired, Proper Parliamentary Procedure learned, Learning is 1/2 the Battle
Having reached my tipping point I decided I would create a rhetorical instrument that could be cited by any vetted local Republican who authored a blog post they felt would be discarded due to the controversial nature of the content. I wrote an email explaining my intentions to stand at the next regular meeting during "New Business," gain recognition from the chairman, and then present this instrument, titled the Proclamation of Patriot Post, for a vote. I attached the draft of this document and hit send
Again the Chairman was the first to respond with his opinion of the instrument and his seeing no reason for such a thing since the Bylaws, at the time he was keeping from everyone, according to the chairman, covered this. Spoiler alert, the bylaws don't specifically cover what this instrument was designed to do, only loosely implying the Chairman as the sole decision maker for what the Committee publishes.
Of course he would be attracted to this, it makes him the sole firewall preventing the Humboldt County Republicans, not the committee but the actual people, from voicing their opinions as republicans!
A fascinating coincidence, Donnie is to be removed from the same regular meeting where he planned to demonstrate a parliamentary procedure
Yes, this actually happened. Ten days before the recent past September 5th meeting a motion to remove me from the Committee was put forth by Susan Moxon and Minnie Wolf. The two coconspirators had been working diligently to slander my good name while entirely fabricating lies about situations involving myself, even though there were multiple witnesses present to all they claim, each one unanimously reporting the exact opposite of what these two have to say about me.
These two are some of the worst of what humanity has to offer. Two-faced bitter lying hags that will turncoat on their own volunteers based on their bigoted, closed-minded, yesteryear views of Cannabis. Indeed these two are so hateful and cancerous that they've together pushed out many volunteers before my time. Aware of their history I made a pack with a handful of others to not give up and quit regardless of what these ungrateful grifting grannies threw at me.
These two, working with the Chairman, personally petitioned everyone on the committee to vote me off while spreading the egregious lie that I am aggressive, violent, and so much a danger that they required a personal security guard to keep them safe from me during Executive and Regular Meetings. These were obvious lies my friends quickly reported back to me in disgust from what they were experiencing.
republican party vs democratic party, not sure if there is a difference in Humboldt
We all knew they sucked, but we had no idea they were hateful, mean-hearted, and willing to lie and cheat just to get their way all while lacing themselves on a pedestal of Religious superiority.
I wouldn't be so cavalier about saying such things about them if I hadn't bent over backward trying to appease them, apologizing for whatever I had done to upset them, asking to work together and set aside our differences, even including a $100 gift in one apology as my mother encouraged me to do. To both of their faces, in front of many witnesses, I even told them I had no ill will toward either of them and my only issue with them was whatever their mysterious issue was with me.
All of this effort was for nothing.
September 5th, 2022 – Donnie Creekmore is voted off the Humboldt GOP
In truth, the nasty hags and their King Chairman won the battle and were successful at removing me from office. Due to a handful of random unfortunate circumstances leaving me with three fewer votes I was removed from the Humboldt County Republican Central Committee on September 5th at The Pantry in Eureka.
Over 15 of my friends and colleagues came to the meeting. I had asked them to come so they could witness the ridiculous show trial firsthand so my story wouldn't just be my story, it would be our story. Disgusted with what they saw each one took the three minutes they were given during public comment to give these folks a piece of their mind. I was overwhelmed with gratitude and pride for their outpouring of love and support for me, many of them listing things I've done that directly affected their lives in some way.
It was a remarkable show of support I will always remember
To Be Continued